Price
$175 per Group + $40 Text per Student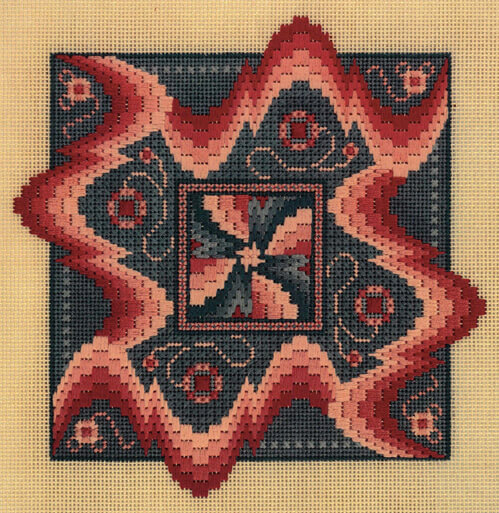 Undulations II is a geometric design that mixes Bargello with diagonal stitches, box stitches, cross stitches and tied stitches. On this Group Correspondence Course you will stitch one of four quadrants of the design; then rotate the canvas a quarter turn to stitch each of the remaining quadrants.
Undulations II is the remake of a design called Undulations that was taught at a national seminar. The model for the new design is the same as the original design, but Undulations II can be stitched in a variety of color combinations in stranded embroidery cotton or stranded silk or other threads of the stitcher's choice. Undulations II offers options that allow the stitcher to use motifs, center Bargello patterns, and background stitches that are different from those in the model. If individuals desire, they can use their own original motifs for parts of the design.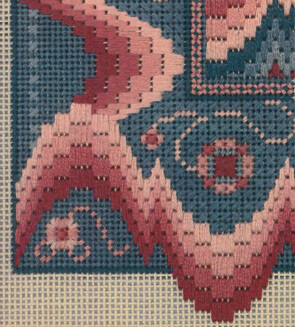 Undulations II information
Project: Picture
Size: Design area is 7.5″ by 7.5″
Color Choices: Rust/Blue or Rose/ Green or a selection of the stitcher's choice
Supplies: 18 count mono canvas, stranded embroidery cotton or stranded silk or other threads suitable for both horizontal and diagonal stitches on 18 count mono canvas.
Proficiency Level: Intermediate
Prerequisites: Stitcher must be able to read charts and use compensation
Time: 7 lessons, 7 months
Text: $40 per student. The text consists of 51 pages (13 color pages) plus four separate full color reference sheets. Text is pre-punched for a three-ring binder and is unbound in a two-pocket folder.
Supplies (approximate): $25 for stranded embroidery cotton or $60 for stranded silk and specialty threads such as Impressions, Silk & Ivory, and Flair
Download supply list.
About teacher Gail Stafford
Gail Stafford teaches mathematics at a small college in eastern North Carolina.  She has always enjoyed art in many forms.  For many years, she enjoyed stitching canvas embroidery projects and in more recent years she has been creating original needlework designs.  Though she continues to enjoy Bargello, her current focus is on translating scenic images into canvas embroidery designs.  She holds EGA Master Craftsman certifications in Canvas Embroidery, Color for Needlework, and Design for Needlework.  She has been on the faculty of American Needlepoint Guild National seminars and has presented numerous programs for EGA and ANG chapters.  Her work has been published in Needle Pointers, Needle Arts, and Needlepoint Now.
Work done by students of Undulations II
Wondering how Group Correspondence Courses work? Learn more here.