Price
$175 per Group + $45 Text per Student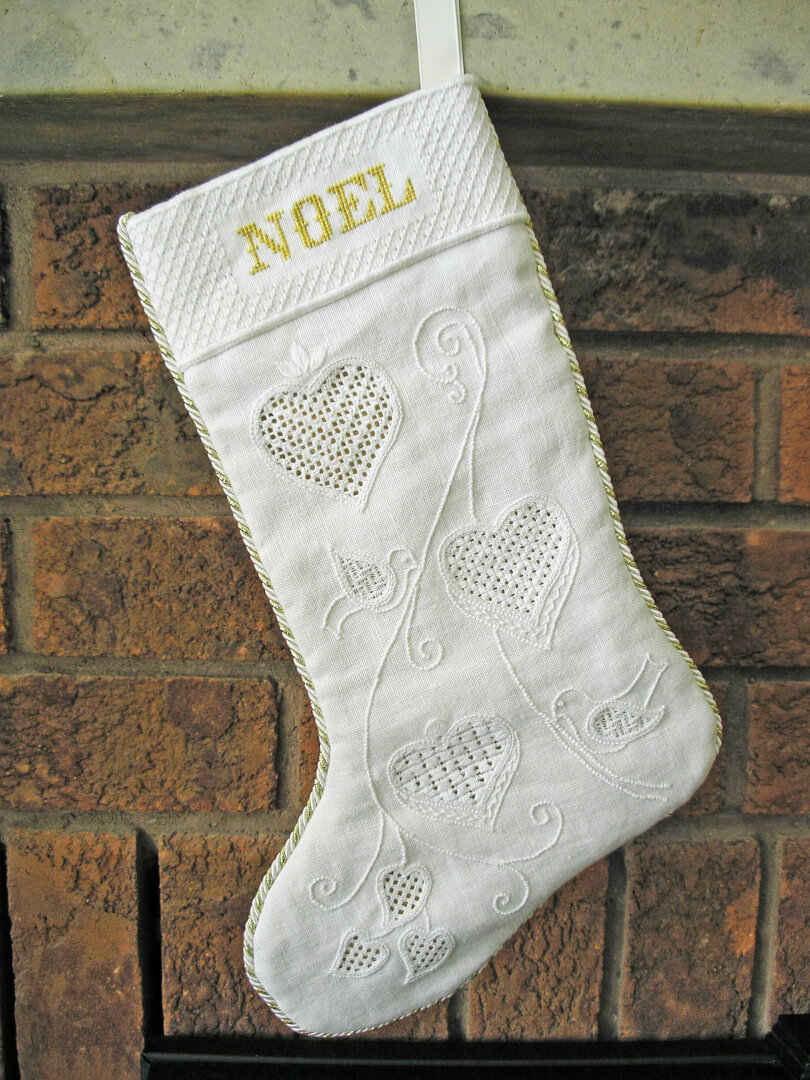 Our Group Correspondence Course Noel has been designed to continue your exploration of Schwalm Embroidery. A design of hearts, birds and ribbons comes together to create a beautiful Christmas stocking. This design uses basic surface stitches including coral knots, chain stitch, fishbone stitch, and blanket stitch. You will also create the scallops that Schwalm is known for. In addition, the design includes some interesting filling stitches: rose stitch, cording stitch bars, an eyelet variation, a rose and satin stitch pattern, and a composite stitch using a Marburg and darning stitch. The cuff has a lovely combination of satin stitch and honeycomb stitch as well as a space for a cross stitch name. Add a little sparkle of metallic thread to the name and you have a beautiful Christmas stocking. The design could also be made into a beautiful gift bag. Left-handed instructions are available on request.
Noel information
Project: Christmas Stocking or gift bag
Size of Project: 9" x 14 ½"
Supplies used: 32-count linen fabric, Coton a Border, DMC floss and metallic thread
Proficiency Level: Intermediate
Prerequisites: None
Timeline for course: Six lessons or six months
Text price: $45 – 46 pages with three pages of colour photographs and one 11"x 17" design page.
Estimated cost of supplies: $45 (does not include the finishing materials)
Download supply list.
About teacher Barbara M. Kershaw
Barbara M. Kershaw has a passion for learning and sharing her knowledge of the many varied and wonderful forms of embroidery generally called whitework. She has taken many courses and classes from the Embroiderers' Association of Canada (EAC), Embroiderers' Guild of America (EGA), and the American Needlepoint Guild (ANG). Barbara is certified as an EGA Master Craftsman in counted thread. She also studied in Germany at the Museum de Schwalm in 2005 and 2011. She has been teaching for over 20 years at various EAC national seminars, EGA national and regional seminars, guilds in Canada, America and Bermuda as well as two International Teaching Tours of the USA. Barbara is the author of two Group Correspondence Courses including Mythical Myrtle –   and an Individual Correspondence Course Basic Study of Schwalm Embroidery. Her book Exquisite Schwalm focuses on Schwalm filling stitches.
Wondering how Group Correspondence Courses and GCC Lightning Rounds work? Learn more here.